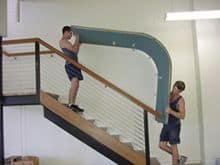 OFFICE MOVING TIPS
Click or Call We Can Shift Anything
If you are looking for reliable office moving tips then congratulations you visited the right page. We are the only reliable team In Melbourne, Australia that is providing expert services for house moving in Melbourne, office moving tips & services at a very affordable price. We would like to inform you all that we provide weekend's special service without any additional cost. So if you have any requirement regarding house moving tips or Office moving tips then you can get connected with our representative by visiting only our website cheapremovalistsinmelbourne. So, hurry up what are you waiting. Don't delay your house or office shifting. Contact us right now & save your precious time & energy just by giving us a single call.
Shifting from one place to another takes a plenty of efforts because it includes discretion & pre-arrangements. No worries when we are always there to help you. Today we have come up with the idea of providing office moving tips. Just in case you are delaying this important decision due whatever reason, we are sure after reading our article you will surely make your mind. Office not only belongs to its owner, but everyone who is working in it holds a very special place in it. So, more the people more they possess clutter.
Plan What Kind of Office & Where You Want To Relocate: – Well, as per your business, its employer decision regarding what where & how they want to shift office. Ahead of going out & looking for the ideal location, it is important that employer makes a decision on the basis for Office move & what are the objectives for this office shift. Don't forget to keep a check on your budget. A budget will decide many things such as location, type of building, essential amenities etc. Or in case you find that you have no commercial movers in your budget then at least once approach us. We will surely help you in moving your office from one place to another safely. We also provide assistance for house moving tips or house moving in Melbourne.
Inform Staff about Office Shift: – As we all know that office is not only belongs to the owner, its employees are also very important part of it. So we at cheapremovalistsinmelbourne advise you to do a meeting before you schedule your office shift. In this meeting, you can communicate with your employees what they need to carry in new office & what they have to leave here in the old office.  Give your employees a checklist of doing & don'ts in a new office.
Declutter Your Office: – Firstly, The most important things a staff can do for their workplace is Declutter your Office. Just think for a minute, when we go to any new place, do we carry any unwanted things with us? No, we don't do that, then why you do while shifting to your new workplace. When you list out essential office moving tips, the first list what is important for your work, whether it is a file or a machine. Try to figure out the least important things & give it to the nearby recycling center. Or you can check our website cheapremovalistsinmelbourne for more innovative ideas about house moving tips in Melbourne or Best available house moving tips & services.
Book Commercial Movers In Advance: – If you plan anything in advance it will give fruitful outcome for sure. So, when you actually made up your mind to Shift your office in or out of Melbourne, don't forget to Book Commercial Movers just like us cheapremovalistsinmelbourne In advance. The reason for booking in advanced is that team can make necessary arrangements in advance for your shifting. Shifting office is not that easy as you think. It can be stressful if you don't make pre-arrangements for it. If you don't follow the Office moving tips carefully then chances are that staff may look for an important file for months. So think before you act. You can also check house moving tips or tips on house moving in Melbourne on our website.
Scheduling Shifting: – After all, you are shifting your office to another place. It means the building in which you are going to shift will also have other offices as well. The problem is that if you shift your office in office hours then other offices work might get disturbed. This is the reason to provide high-quality service to our clients we are offering weekends services without any extra cost. We believe in developing last long relationships with our clients. We always try not to disturb others by loading or unloading. If our clients ask for weekend shifting, we surely do that without charging extra money. We are only commercial packers in Melbourne that provides house moving tips in Melbourne & services at very reasonable packages.
So, to know more about house moving tips or tips for house moving in Melbourne, Visit our website cheapremovalistsinmelbourne once. Don't forget to check services offered by us. So, we will wait for your valuable feedbacks & suggestions.